Faith and I left NC early Friday morning headed to GA to spend a couple of days with my family prior to my Mother's surgery on Monday morning and we have had a busy couple of days ---and a WHOLE LOT OF HOT DOGS!! (This coming from someone that normally eats almost entirely natural or organic foods when I am at home!) But....when I head south to my "old stomping grounds", there are just some things that I have to partake in or my trip would not be complete!

We got on the road about 8:15 on Friday morning and, of course, our first stop HAD to be Starbucks before the car would even allow me to steer onto the interstate. After a tall, soy, extra hot, no foam, no water Chai Latte, I was good to go!

Next stop (other than the obvious bathroom stops with 2 females traveling together) was - you guessed it -- THE VARSITY in downtown Atlanta. The World's Largest Drive-in! As we arrived, we realized that the next day was the 80 year anniversary of The Varsity and we were SO glad that we had not come a day later because THIS was bad enough!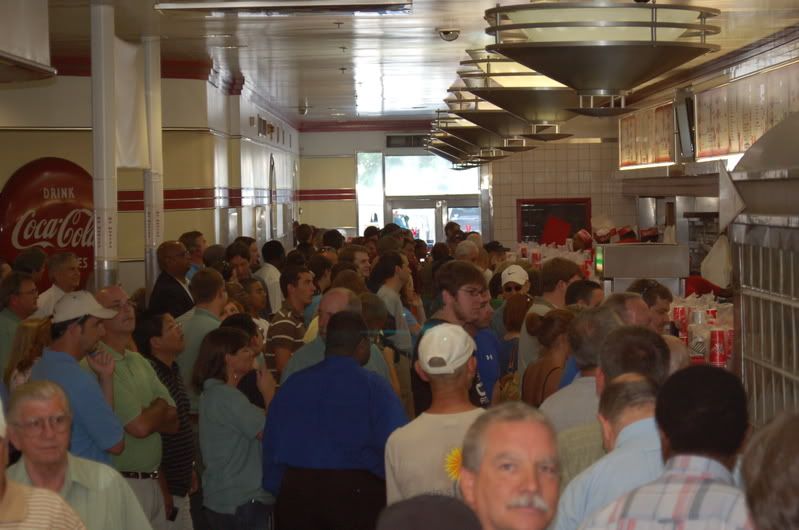 We both had the World Famous Chili Dog, Onion Rings and Varsity Orange and of, course, the Fried Apple Pie! It did not disappoint!


(Everyone needs to eat here at least once a year --just to keep your system cleaned out and in good running order!)

We made it into Columbus about mid-afternoon and went to a great "fish camp" that evening that serves the absolute best jalapeno hush puppies in the world! I had me some fantail shrimp and tartar sauce and...oh...my...word! Good bye South Beach Diet!

Yesterday morning, Faith and I went out snooping shopping around some cute little monogram and gift shops in Columbus, to get some ideas for her store and business. We saw some of the cutest stores with the cutest "stuff" in them! She was able to find some new vendors that she might be interested in carrying their lines in her store.

By this time, it's approaching lunchtime and...you're not going to believe this, BUT... more HOT DOGS!! I grew up going to a little pharmacy in Columbus with a lunch counter that served Scrambled Dogs! Over the years my Mother has perfected our family recipe for them and my family loves them, but Faith had never been to where it all began! The birthplace of The Scrambled Dog! The Dinglewood Pharmacy---World Famous Hot dogs!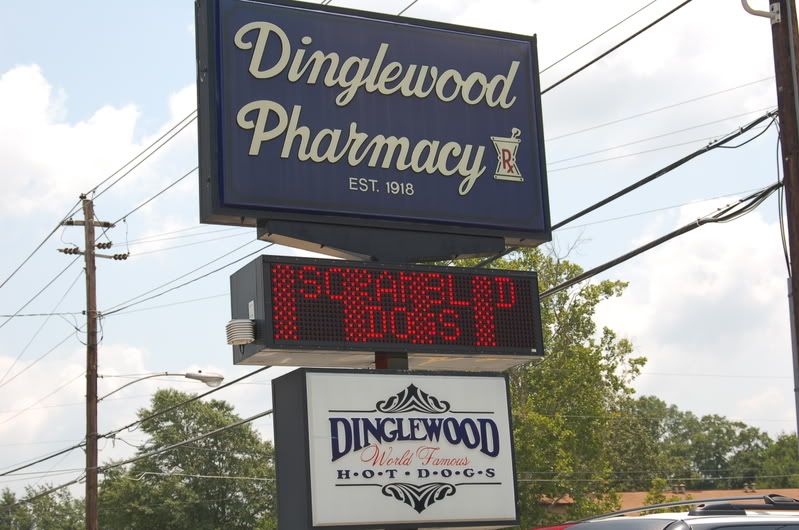 We went in and the place was packed and "Lieutenant" was STILL behind the counter serving them up! He's been doing it for 62 years and still looked exactly the same! It was like stepping back in time!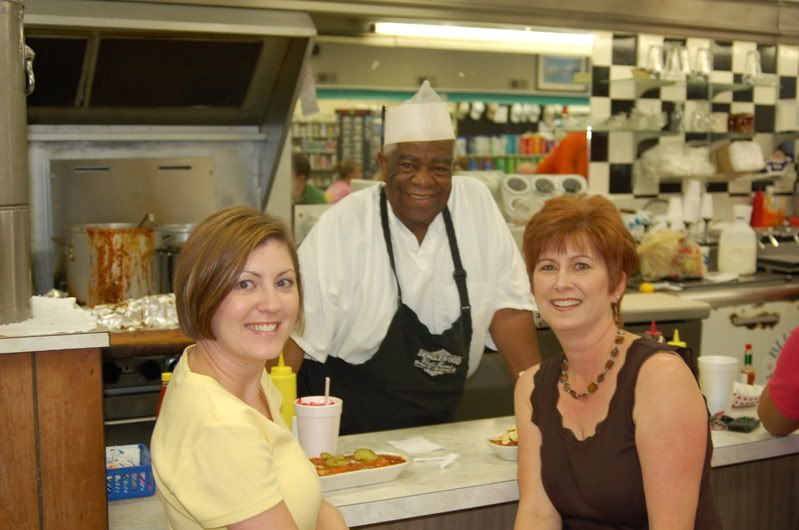 We went by to visit my Dad for a little while. This is a picture of my Dad and me.

After that we headed back to my Mother's house for a cookout last night ---with, imagine this, hot dogs and hamburgers! I decided my system could NOT take another hot dog, so I stuck with a hamburger - with no bun!

I imagine that I have gained back every pound (and then some!) that I had lost over the past 3 weeks, but it has been all worth it to take a trip back down memory lane!